April 1, 2019
Hi, everyone!


My name is Lisa Hodorovych. I am a new proofreader with Savant. I am truly blessed and excited to be a part of this family.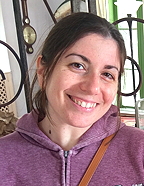 I am from New Jersey. I am a Jersey girl, born and raised, and I am still living here freezing to death. However, one day my husband and I will find a place that is nice and warm all year round.


I am a writer, an editor, a proofreader, and a blogger. My love and passion has always been writing; however, my love for editing and proofreading started while in college. While attending Fairleigh Dickinson University in Madison, NJ, I worked for and interned for their literary journal, The Literary Review. I mainly filed, made copies, and sent out the new issue of the journal to our readers and contributors, but they also taught me how to edit the master copy. This is where my love for editing and proofreading started.


I loved it so much that after graduating in 2009 I tried working in the publishing industry. Unfortunately, no one was hiring at that time. After working different jobs to make ends meet, I decided, with help and persuasion from some friends and my husband, to make editing and writing more full-time. I haven't looked back.


I also love watching movies and TV shows, baking, and spending time with my family, friends, and my husband. If you would like to learn more about me, please don't hesitate to ask.

Sincerely,
Lisa
Posted by Daniel S.. Posted In : Staff Introduction